Product Summary
The LM10CN/NOPB is a monolithic linear IC consisting of a precision reference, an adjustable reference buffer and an independent, high quality op amp. The LM10CN/NOPB is recommended for portable equipment and is completely specified for operation from a single power cell. In contrast, high output-drive capability, both voltage and current, along with thermal overload protection, suggest it in demanding general-purpose applications.


Parametrics
LM10CN/NOPB absolute maximum ratings: (1)Total Supply Voltage: 45V; (2)Differential Input Voltage: ±40V; (3)Power Dissipation: internally limited; (4)Output Short-circuit Duration: continuous; (5)Storage-Temp. Range: -55℃ to +150℃; (6)Lead Temp. (Soldering, 10 seconds)Metal Can: 300℃; (7)Lead Temp. (Soldering, 10 seconds)DIP: 260℃; (8)Vapor Phase (60 seconds): 215℃; (9)Infrared (15 seconds): 220℃.


Features
LM10CN/NOPB features: (1)input offset voltage: 2.0 mV (max); (2)input offset current: 0.7 nA (max); (3)input bias current: 20 nA (max); (4)reference regulation: 0.1% (max); (5)offset voltage drift: 2μV/℃; (6)reference drift: 0.002%/℃.


Diagrams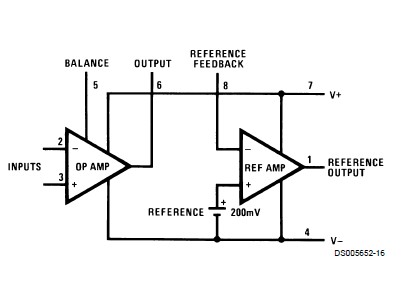 Image
Part No
Mfg
Description
Pricing
(USD)
Quantity

LM10CN/NOPB

National Semiconductor (TI)

Operational Amplifiers - Op Amps OP AMP AND VLTG REF

Data Sheet



| | |
| --- | --- |
| 0-1: | $1.72 |
| 1-25: | $1.39 |
| 25-100: | $1.25 |
| 100-250: | $1.11 |

Image
Part No
Mfg
Description
Pricing
(USD)
Quantity

LM10

Other



Data Sheet

Negotiable

LM10000SD/NOPB



IC EVS SYSTEM CTRLR 14LLP

Data Sheet



| | |
| --- | --- |
| 0-1: | $2.75 |
| 1-10: | $2.48 |
| 10-25: | $2.25 |
| 25-100: | $2.02 |
| 100-250: | $1.84 |
| 250-500: | $1.61 |


LM10010EVM

National Semiconductor (TI)

Power Management IC Development Tools

Data Sheet

Negotiable

LM10010EVM/NOPB

National Semiconductor (TI)

Power Management IC Development Tools LM10010 EVAL BOARD

Data Sheet

Negotiable

LM10010SD/NOPB

National Semiconductor (TI)

Other Power Management

Data Sheet



| | |
| --- | --- |
| 0-1: | $1.02 |
| 1-25: | $0.83 |
| 25-100: | $0.74 |
| 100-250: | $0.66 |


LM10010SDX/NOPB

National Semiconductor (TI)

Other Power Management

Data Sheet



| | |
| --- | --- |
| 0-3340: | $0.45 |
| 3340-4500: | $0.45 |
| 4500-5000: | $0.43 |
| 5000-10000: | $0.41 |