Product Summary
The CY7C65630-56LFXC is a high performance, low power USB 2.0 hub controller. The CY7C65630-56LFXC option is for ultra low power applications that requires four downstream ports. The CY7C65630-56LFXC is available in a 56QFN and is also pin-for-pin compatible with the CY7C65640.
Parametrics
CY7C65630-56LFXC absolute maximum ratings: (1) Storage Temperature: -65 to +150°C; (2) Ambient Temperature with Power Applied: 0 to +70°C (Commercial) , -40 to +85°C (Automotive) ; (3) DC Voltage Applied to Outputs in High Z State: -0.5 to +4.0V; (4) Power Dissipation (4 HS ports: 0.9W; (5) Static Discharge Voltage: > 2000V; (6) Max. Output Sink Current per I/O: 10mA.
Features
CY7C65630-56LFXC features: (1) USB 2.0 hub controller; (2) Automotive AEC grade option; (3) Compliant with the USB 2.0 specification; (4) Up to four downstream ports supported; (5) Supports bus powered and self powered modes; (6) 24 MHz external crystal (integrated PLL); (7) n-system EEPROM programming; (8) Configurable with external SPI EEPROM; (9) Supports bus powered and self powered modes; (10) Single Transaction Translator (TT) .
Diagrams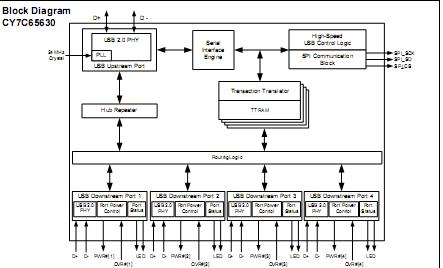 Image
Part No
Mfg
Description
Pricing
(USD)
Quantity

CY7C65630-56LFXC

Cypress Semiconductor

USB Interface IC EZ USB HX2LP LO Pwr USB 2.0Hub 4Port COM

Data Sheet

Negotiable

CY7C65630-56LFXCT

Cypress Semiconductor

USB Interface IC EZ USB HX2LP LO Pwr USB 2.0Hub 4Port COM

Data Sheet

Negotiable