Product Summary
The FMS6400CS1X is a dual channel video driver with integrated filters and composite video summer. The FMS6400CS1X is optimized for minimum overshoot and flat group delay. The FMS6400CS1X also contains a summing circuit to generate filtered composite video. In a typical application, the Y and C input signals from DACs are AC coupled into the filters. Both channels have DC restore circuitry to clamp the DC input levels during video sync. The Y and C channels use separate feedback clamps. The clamp pulse is derived from the Y channel.


Parametrics
FMS6400CS1X absolute maximum ratings: (1)DC Supply Voltage: -0.3 to 6 V; (2)Analog and Digital I/O: -0.3 to Vcc + 0.3 V; (3)Output Current Any One Channel, Do Not Exceed: 40 mA; (4)Junction Temperature: 150 ℃; (5)Storage Temperature Range: -65 150 ℃; (6)Lead Temperature (Soldering, 10s): 300 ℃; (7)Thermal Resistance (ThetaJA), JEDEC Standard Multi-Layer Test Boards, Still Air: 115 ℃/W; (8)Operating Temperature Range: 0 to 70 ℃; (9)Supply Voltage Range 4.75 to 5.25 V.


Features
FMS6400CS1X features: (1)5.0 MHz 5th order Y,C filters with composite summer; (2)Selectable for 0dB or 6dB gain; (3)50dB stopband attenuation at 27MHz on Y, C and CV outputs; (4)No external frequency selection components or clocks; (5)AC-Coupled Inputs; (6)AC or DC-Coupled Outputs; (7)Continuous time low pass filters; (8)0.4% / 0.4 differential gain/phase on Y,C and CV channels; (9)Integrated DC restore circuitry with low tilt; (10)Lead (Pb)Free SOIC-8 Package.


Diagrams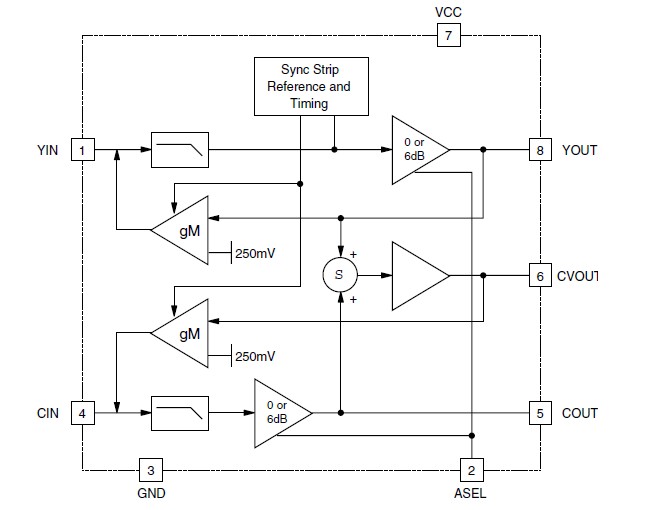 Image
Part No
Mfg
Description
Pricing
(USD)
Quantity

FMS6400CS1X

Fairchild Semiconductor

Video ICs Dual Channel VidDrvr

Data Sheet

Negotiable
Image
Part No
Mfg
Description
Pricing
(USD)
Quantity

FMS6141

Other



Data Sheet

Negotiable

FMS6141CS

Fairchild Semiconductor

Active Filters 1-Ch 4th Order Std Video Filter Driver

Data Sheet

Negotiable

FMS6141CSX

Fairchild Semiconductor

Active Filters 1-Ch 4th Order Std Video Filter Driver

Data Sheet



| | |
| --- | --- |
| 0-1: | $0.44 |
| 1-25: | $0.31 |
| 25-100: | $0.27 |
| 100-250: | $0.23 |


FMS6141S5X

Fairchild Semiconductor

Active Filters 1-Ch 4th Order Std Video Filter Driver

Data Sheet



| | |
| --- | --- |
| 0-1: | $0.44 |
| 1-25: | $0.31 |
| 25-100: | $0.27 |
| 100-250: | $0.23 |


FMS6143

Other



Data Sheet

Negotiable

FMS6143ACSX

Fairchild Semiconductor

Video ICs 3 Chan 6th Order SD Video Filter Driver

Data Sheet



| | |
| --- | --- |
| 0-1700: | $0.28 |
| 1700-2500: | $0.26 |
| 2500-5000: | $0.25 |
| 5000-10000: | $0.24 |