Product Summary
The MAX6495ATT+T9 is an overvoltage-protection switch/limiter controller with an external MOSFET. The MAX6495ATT+T9 is small, low-current, overvoltage-protection circuit for high-voltage transient systems such as those found in automotive and industrial applications. The MAX6495ATT+T9 monitors the input voltage and control an external n-channel MOSFET switch to isolate the load at the output during an input overvoltage condition.


Parametrics
MAX6495ATT+T9 absolute maximum ratings: (1)IN, GATE, GATEP: -0.3V to +80V; (2)SHDN, CLEAR: -0.3V to (VIN + 0.3V); (3)POK, OUTFB: -0.3V to +80V; (4)GATE to OUTFB: -0.3V to +12V; (5)GATEP to IN: -12V to +0.3V; (6)OVSET, UVSET, POKSET: -0.3V to +12V; (7)Current Sink/Source (All Pins): 50mA; (8)All Other Pins to GND: -0.3V to (VIN + 0.3V); (9)Continuous Power Dissipation: 1455mW; (10)Operating Temperature Range: -40℃ to +125℃; (11)Junction Temperature: +150℃; (12)Storage Temperature Range: -60℃ to +150℃; (13)Lead Temperature (soldering, 10s): +300℃.


Features
MAX6495ATT+T9 features: (1)Wide Supply Voltage Range: +5.5V to +72V; (2)Overvoltage-Protection Switch Controller Allows User to Size External n-Channel MOSFETs; (3)Fast Gate Shutoff During Overvoltage with 100mA Sink Capability; (4)Internal Charge-Pump Circuit Ensures 10V Gate-to-Source Enhancement for Low RDS(ON)Performance; (5)n-Channel MOSFET Latches Off After an Overvoltage Condition (MAX6497/MAX6499); (6)Adjustable Overvoltage Threshold; (7)Thermal Shutdown Protection; (8)Supports Series p-Channel MOSFET for Reverse- Battery Voltage Protection (MAX6496); (9)POK Indicator (MAX6497/MAX6498); (10)Adjustable Undervoltage Threshold (MAX6499); (11)-40℃ to +125℃ Operating Temperature Range; (12)Small, 3mm x 3mm TDFN Package.


Diagrams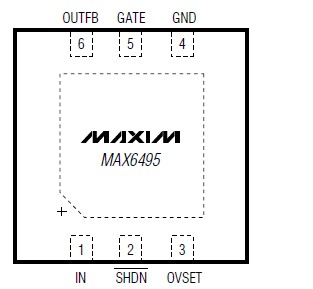 Image
Part No
Mfg
Description
Pricing
(USD)
Quantity

MAX6495ATT+T

Maxim Integrated Products

Voltage Detectors / Monitors 72V Over V Protect Switch/Limiter

Data Sheet



| | |
| --- | --- |
| 0-1: | $3.01 |
| 1-25: | $2.27 |
| 25-50: | $2.05 |
| 50-100: | $1.99 |

Image
Part No
Mfg
Description
Pricing
(USD)
Quantity

MAX6001

Other



Data Sheet

Negotiable

MAX6001EUR+T

Maxim Integrated Products

Voltage & Current References Low-Power Low-Drop Voltage Ref

Data Sheet



| | |
| --- | --- |
| 0-1: | $0.53 |
| 1-25: | $0.43 |
| 25-50: | $0.40 |
| 50-100: | $0.38 |


MAX6001EUR-T

Maxim Integrated Products

Voltage & Current References

Data Sheet

Negotiable

MAX6002

Other



Data Sheet

Negotiable

MAX6002EUR/V+T

Maxim Integrated Products

Voltage & Current References Low-Power Low-Drop Voltage Ref

Data Sheet

Negotiable

MAX6002EUR+T

Maxim Integrated Products

Voltage & Current References Low-Power Low-Drop Voltage Ref

Data Sheet



| | |
| --- | --- |
| 0-1: | $0.57 |
| 1-25: | $0.43 |
| 25-50: | $0.41 |
| 50-100: | $0.38 |