Product Summary
The MCF5272VM66-K75N is a coldFire integrated microprocessor. The MCF5272VM66-K75N is the most highly-integrated V2 standard product, containing a variety of communications and general-purpose peripherals. The MCF5272VM66-K75N is designed to maximize code density and performance while minimizing die area.


Parametrics
MCF5272VM66-K75N absolute maximum ratings: (1)Supply voltage VDD: –0.3 to + 4.0 V; (2)Maximum operating voltage VDD: +3.6 V; (3)Minimum operating voltage VDD: +3.0 V; (4)Input voltage Vin: –0.5 to +5.5 V; (5)Storage temperature range Tstg: –55 to 150 ℃.


Features
MCF5272VM66-K75N features: (1)32-bit address and data path on-chip; (2)66-MHz processor core and bus frequency; (3)Sixteen general-purpose 32-bit data and address registers; (4)Multiply-accumulate unit (MAC)for DSP and fast multiply operations; (5)4-Kbyte SRAM on CPU internal bus; (6)16-Kbyte ROM on CPU internal bus; (7)1-Kbyte instruction cache; (8)Fully-static operation with processor sleep and whole-chip stop modes; (9)Very rapid response to interrupts from the low-power sleep mode (wake-up feature); (10)Clock enable/disable for each peripheral when not used; (11)Software-controlled disable of external clock input for virtually zero power consumption (low-power stop mode).


Diagrams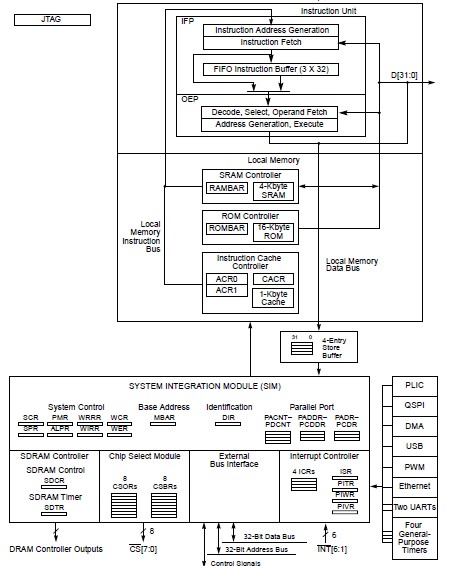 MCF500VKIT5

Cornell Dubilier

Capacitor Kits MICA CHIP KIT

Data Sheet



MCF50SJR-100K



RES MELF CARB 100K OHM 1/2W 5%

Data Sheet

Negotiable

MCF50SJR-10K



RES MELF CARB 10K OHM 1/2W 5%

Data Sheet

Negotiable

MCF50SJR-1K

Yageo

Carbon Film Resistors - SMD 1K OHM 1/2W 5%

Data Sheet



| | |
| --- | --- |
| 0-1: | $0.07 |
| 1-100: | $0.04 |
| 100-1000: | $0.03 |
| 1000-2000: | $0.03 |


MCF50SJR-47R

Yageo

Carbon Film Resistors - SMD 47 OHM 1/2W 5%

Data Sheet



| | |
| --- | --- |
| 0-1: | $0.07 |
| 1-100: | $0.04 |
| 100-1000: | $0.03 |
| 1000-5000: | $0.02 |


MCF51AC128ACFUE

Freescale Semiconductor

32-bit Microcontrollers (MCU) 128K FLASH, 32K RAM CAN

Data Sheet



| | |
| --- | --- |
| 0-1: | $3.83 |
| 1-25: | $3.30 |
| 25-50: | $3.17 |
| 50-100: | $2.57 |