Product Summary
The TA8122AFG is an AM/FM 1Chip tuner IC. The is designed for portable radios and 3V headphone radios.

Parametrics
TA8122AFG absolute maximum ratings: (1) supply voltage VCC: 8V; (2) LED current ILED: 10mA; (3) LED Voltage VLED: 8V; (4) Power Dissipation: 400mW; (5) Operating temperature Topr: 025 to 75°C; (6) Storage temperature Tstg: -55 to 150°C.
Features
TA8122AFG features: (1) built-in FM F/E, AM/FM and FM ST DET; (2) AM detector oil, FM IFT anf IF coupling condenser are not needed; (3) for adopting ceramic discriminator and ceramic resonatorm; S curve characteristics of FM detection output in TA8122AFG; (4) Compact package; (5) operating supply voltage range VCC=1.8-7.0V (Ta=25°C) .

Diagrams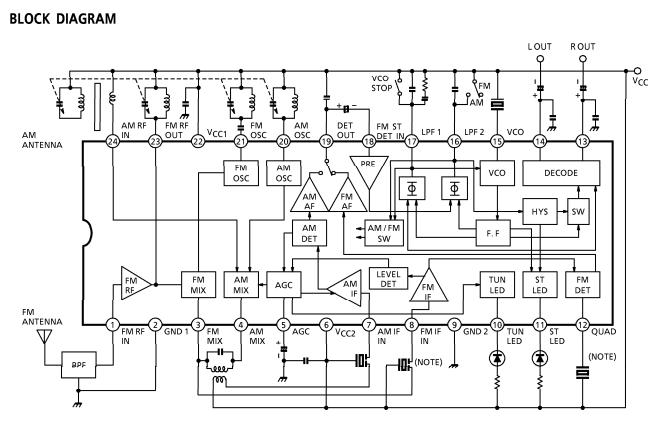 TA8106F

Other



Data Sheet

Negotiable

TA810PW100KJE

Ohmite

Thick Film Resistors - Through Hole 10 WATT 100K OHM 5%

Data Sheet



| | |
| --- | --- |
| 0-1: | $2.51 |
| 1-100: | $2.30 |
| 100-250: | $2.09 |
| 250-500: | $1.84 |


TA810PW100RJ



RES THICK FILM POWER 100 OHM 10W

Data Sheet



TA810PW100RJE



RES THICK FILM POWER 100 OHM 10W

Data Sheet



| | |
| --- | --- |
| 0-1: | $2.88 |
| 1-50: | $2.30 |
| 50-100: | $1.66 |
| 100-500: | $1.54 |


TA810PW10R0J



RES THICK FILM POWER 10 OHM 10W

Data Sheet



TA810PW10R0JE



RES THICK FILM POWER 10 OHM 10W

Data Sheet



| | |
| --- | --- |
| 0-1: | $2.88 |
| 1-50: | $2.30 |
| 50-100: | $1.66 |
| 100-500: | $1.54 |