Product Summary
The AT45DB161B-TU is a 2.5-volt or 2.7-volt only, serial interface Flash memory ideally suited for awide variety of digital voice-, image-, program code- and data-storage. The operation of the AT45DB161B-TU is controlled by instructions from the host processor.
Parametrics
AT45DB161B-TU absolute maximum ratings: (1) Temperature under Bias: -55 to +125°C; (2) Storage Temperature: -65 to +150°C; (3) All Input Voltages (including NC Pins) with Respect to Ground: -0.6 to +6.25V; (4) All Output Voltages with Respect to Ground: -0.6 to Vcc to +0.6V.
Features
AT45DB161B-TU features: (1) Single 2.5V - 3.6V or 2.7V - 3.6V Supply; (2) Serial Peripheral Interface (SPI) Compatible; (3) 20MHz Max Clock Frequency; (4) Supports Page and Block Erase Operations; (5) Two 528-byte SRAM Data Buffers-Allows Receiving of Data while Reprogramming of Nonvolatile Memory; (6) Continuous Read Capability through Entire Array; (7) Low Power Dissipation; (8) Hardware Data Protection Feature; (9) Commercial and Industrial Temperature Ranges; (10) Green (Pb/Halide-free) Packaging Options.
Diagrams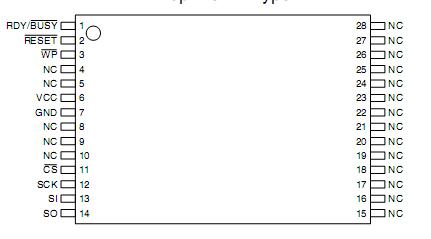 AT452A

NKK Switches

Switch Hardware BLACK RECTANGULAR INSERT FOR MB20, SCB

Data Sheet



| | |
| --- | --- |
| 0-1: | $0.43 |
| 1-25: | $0.42 |
| 25-50: | $0.42 |
| 50-100: | $0.40 |


AT452B

NKK Switches

Switch Hardware WHITE RECTANGULAR INSERT FOR MB20, SCB

Data Sheet



| | |
| --- | --- |
| 0-1: | $0.43 |
| 1-25: | $0.42 |
| 25-50: | $0.42 |
| 50-100: | $0.40 |


AT452C

NKK Switches

Switch Hardware RED RECTANGLE INSERT

Data Sheet



| | |
| --- | --- |
| 0-1: | $0.58 |
| 1-25: | $0.49 |
| 25-50: | $0.47 |
| 50-100: | $0.42 |


AT452F

NKK Switches

Switch Hardware GREEN RECTANGULAR INSERT FOR MB20, SCB

Data Sheet



| | |
| --- | --- |
| 0-1: | $0.43 |
| 1-25: | $0.42 |
| 25-50: | $0.42 |
| 50-100: | $0.40 |


AT452G

NKK Switches

Switch Hardware BLUE RECTANGULAR INSERT FOR MB20, SCB

Data Sheet



| | |
| --- | --- |
| 0-1: | $0.43 |
| 1-25: | $0.42 |
| 25-50: | $0.42 |
| 50-100: | $0.40 |


AT452H

NKK Switches

Switch Hardware GRAY RECTANGULAR INSERT FOR MB20, SCB

Data Sheet



| | |
| --- | --- |
| 0-1: | $0.76 |
| 1-25: | $0.49 |
| 25-50: | $0.44 |
| 50-100: | $0.42 |