Product Summary
The ATS177-PL-B-B is an integrated Hall effect latched sensor designed for electronic commutation of brush-less DC motor applications. The ATS177-PL-B-B includes an on-chip Hall voltage generator for magnetic sensing, a comparator that amplifies the Hall voltage, and a schmitt trigger to provide switching hysteresis for noise rejection, and open-collector output. An internal bandgap regulator is used to provide temperature compensated supply voltage for internal circuits and allows a wide operating supply range. If a magnetic flux density larger than threshold Bop, DO is turned on(low). The output state of the ATS177-PL-B-B is held until a magnetic flux density reversal falls below Brp causing DO to be turned off (high).


Parametrics
ATS177-PL-B-B absolute maximum ratings: (1)Supply Voltage VCC: 20 V; (2)Reverse Vcc Polarity Voltage VRCC: -20 V; (3)Magnetic Flux Density: B Unlimited; (4)Output OFF Voltage Vce: 30 V; (5)Output ON Current Continuous Ic: 25 mA; (6)Operating Temperature Range TA: -20~+85 ℃; (7)Storage Temperature Range Ts: -65~+150 ℃; (8)Maximum Junction Temp. Tj: 150 ℃; (9)Package Power Dissipation SIP-3L PD: 550 mW.


Features
ATS177-PL-B-B features: (1)3.5V to 20V DC operation voltage; (2)Temperature compensation; (3)Wide operating voltage range; (4)Open-Collector pre-driver; (5)25mA maximum sinking output current.; (6)Reverse polarity protection; (7)Lead Free Finish/RoHS Compliant for Lead Free products; (8)Package: SIP-3L.


Diagrams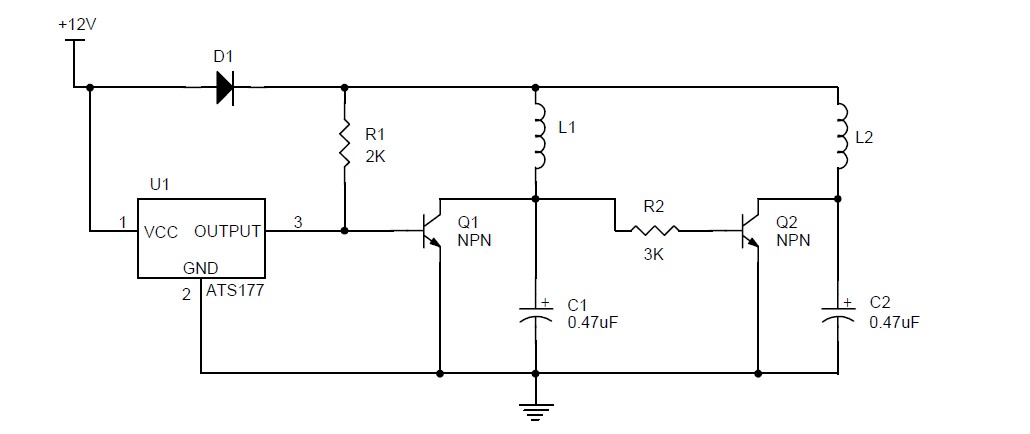 Image
Part No
Mfg
Description
Pricing
(USD)
Quantity

ATS177-PL-B-B

Diodes Inc.

Board Mount Hall Effect / Magnetic Sensors BIPOLAR LATCHNG 25mA 3.5V-20V

Data Sheet



| | |
| --- | --- |
| 0-1: | $0.43 |
| 1-10: | $0.29 |
| 10-100: | $0.26 |
| 100-250: | $0.23 |

Image
Part No
Mfg
Description
Pricing
(USD)
Quantity

ATS100

CTS Electronic Components

Crystals 10MHz

Data Sheet



| | |
| --- | --- |
| 0-1: | $0.48 |
| 1-10: | $0.42 |
| 10-50: | $0.37 |
| 50-100: | $0.26 |


ATS100B

CTS Electronic Components

Crystals 10.0MHz 18pF Fund. -20C +70C

Data Sheet



| | |
| --- | --- |
| 0-1: | $0.21 |
| 1-10: | $0.17 |
| 10-50: | $0.16 |
| 50-100: | $0.14 |


ATS100B-E

CTS Electronic Components

Crystals 10MHz 18pF Fund. -40C +85C

Data Sheet



| | |
| --- | --- |
| 0-1: | $0.33 |
| 1-10: | $0.28 |
| 10-50: | $0.25 |
| 50-100: | $0.22 |


ATS100BSM-1

CTS Electronic Components

Crystals 10MHz 18pF Fund. -20C +70C

Data Sheet



| | |
| --- | --- |
| 0-1: | $0.24 |
| 1-10: | $0.20 |
| 10-50: | $0.18 |
| 50-100: | $0.16 |


ATS100BSM-1E

CTS Electronic Components

Crystals 10MHz 18pF Fund. -40C +85C

Data Sheet



| | |
| --- | --- |
| 0-1000: | $0.20 |
| 1000-2000: | $0.19 |
| 2000-5000: | $0.19 |
| 5000-10000: | $0.18 |


ATS100-E

CTS Electronic Components

Crystals 10MHz Series 30ppm -40C 85C

Data Sheet



| | |
| --- | --- |
| 0-1: | $0.32 |
| 1-10: | $0.29 |
| 10-50: | $0.25 |
| 50-100: | $0.22 |