Product Summary
The A3979SLPTR is a complete microstepping motor driver with built-in translator, designed as a pin-compatible replacement for the successful A3979SLPTR, with enhanced microstepping (1/16 step) precision. It is designed to operate bipolar stepper motors in full-, half-, quarter-, and sixteenth-step modes, with an output drive capacity of up to 35 V and ±2.5 A. The A3979SLPTR includes a fixed off-time current regulator that has the ability to operate in Slow, Fast, or Mixed decay modes. This current-decay control scheme results in reduced audible motor noise, increased step accuracy, and reduced power dissipation.


Parametrics
A3979SLPTR absolute maximum ratings: (1)Output Current IOUT Output current rating may be limited by duty cycle, ambient temperature, and heat sinking. Under any set of conditions, do not exceed the specified current rating or a junction temperature of 150℃: ±2.5 A; (2)Logic Supply Voltage VDD: 7.0 V; (3)Logic Input Voltage Range VIN: tW > 30 ns –0.3 to VDD + 0.3 V, tW < 30 ns –1 to VDD + 1 V; (4)Sense Voltage VSENSE:0.5 V; (5)Reference Voltage VREF: VDD V; (6)Operating Ambient Temperature TA Range S: –20 to 85 ℃; (7)Junction Temperature TJ(max): 150 ℃; (8)Storage Temperature Tstg: –55 to 150 ℃.


Features
A3979SLPTR features: (1)±2.5 A, 35 V output rating; (2)Low RDS(On)outputs: 0.28 Ω source, 0.22 Ω sink, typical; (3)Automatic current decay mode detection/selection; (4)3.0 to 5.5 V logic supply voltage range; (5)Slow, Fast or Mixed current decay modes; (6)Home output; (7)Synchronous rectification for low power dissipation; (8)Internal UVLO and thermal shutdown circuitry; (9)Crossover-current protection.


Diagrams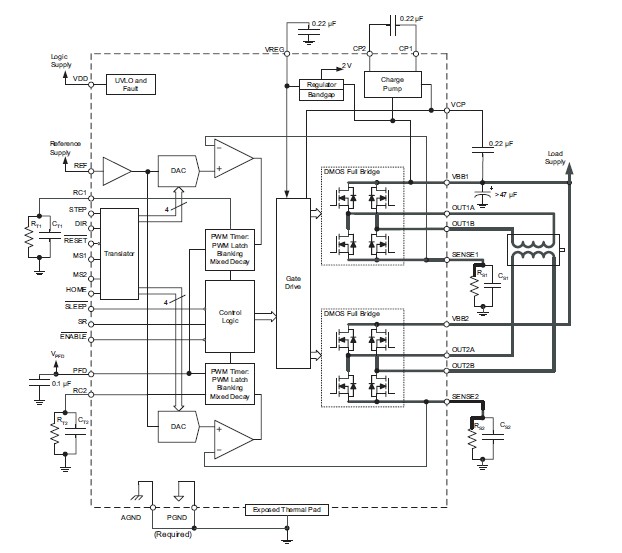 Image
Part No
Mfg
Description
Pricing
(USD)
Quantity

A3979SLPTR



IC DRIVER MICROSTEPPING 28-TSSOP

Data Sheet

Negotiable

A3979SLPTR-T



IC DRIVER MICROSTEPPING 28-TSSOP

Data Sheet



| | |
| --- | --- |
| 0-4000: | $2.16 |
| 4000-8000: | $2.08 |
| 8000-12000: | $2.04 |
| 12000-28000: | $1.99 |